Cash game success in St. Maarten
By : David - Professional Poker Player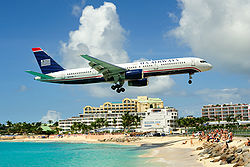 Sending some updates from the sunny, warm and beautiful St. Maarten in the Caribbean. St Maarten is split under two flags; the french and the dutch. The french side isextremely beautiful and you have many nice luxury beaches sa well as restaurants which is getting many visitors daily.
I decided to leave the cold and snowy Europe for some nice sun, beaches and of course some good action poker. The Caribbean is quite well known for great poker action, if you know the spots to go to. St. Maarten is one of the best spots to go in terms of great poker action for Omaha. The games here are 5/10 and they also run one table $25/50 most of the nights which is filled with amazing action.
I decided to give the 5/10 a good shot and been well the last two nights. The table is very loose and most of the players seem quite novice about Omaha as a poker game and they are more playing as well as ranking their hands as it was a Texas Holdem game.
The hand of the night was probably when I hit Royal Straight Flush of Hearts. Flop comes A-10-2 and I hold Kh-Qh-10-J – the money goes in on the flop. Turn is a J which gives me the nuts and turn is the beautiful 10 of Hearts completing my Royal Flush. Always nice to see it, the extremely few times that is.
I am planning to continue playing at the 5/10 hence that the value is absolute amazing. If you don´t get too many bad beats, it should be a very profitable game for any good solid Omaha player.
If it runs well for a few days, maybe I give the 25/50 a shot, but for now I am more than happy to be a the 5/10 as well as enjoying some nice sun and beautiful beaches.
Over and Out from St Maarten for now!
David
Copyright 2019 pokersitesonline.com - 18+ Gamble Responsibly - All Rights Reserved