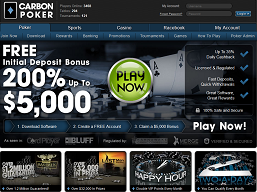 Hits and Misses
Biggest Bonus for USA Players
Has the Widest Spread of Poker Games
Loaded with Fish
---
Does Not Accept Players From
NY, MD, WA, and U
Full Carbon Poker Review
Carbon Poker has been around since 2007 and it has developed a solid reputation as being a poker site that can be trusted and enjoyed. The site is probably the number one poker site on the Merge Gaming network which at the start of 2013 was listed as the 15th biggest poker network in the world.
One of the areas where Carbon Poker has found fame comes with the fact that it has handed out the largest Bad Beat Bonus of all time! Back in February 2009, the total sum of money paid out for this hand, including the Bad Beat jackpot amounted to over $1.2m, an amount that still stands today.
Carbon Poker Bonuses & Promotions
When you are looking for a poker site to sign up to, it is inevitable that the welcome bonus will play a part in this. There are many different elements that are central to enjoying your time on an online poker site but boosting your bankroll is crucial.
Carbon Poker offers the best deposit bonus for USA players. Click here to join Carbon Poker and receive up to $5000 free with your first deposit. A 200% match offer!
The Carbon Poker welcome bonus provides players with the chance to earn a 200% matched deposit bonus up to a level of $5,000. The minimum amount required to be deposited to be eligible for this promotion is $10, which would see players earn a bonus of $20, allowing them to play with $30.
The Carbon Poker welcome bonus is paid out to players in $5 increments and players earn $1 every time they earn 150 VIP Points on site. As soon as a withdrawal is made from the site, any bonuses that have not been claimed expire. Side games, mainly popular casino games like roulette, blackjack, video poker and backgammon amongst others are not eligible in earning VIP Points and therefore will not count towards claiming the welcome bonus.
One thing that Carbon Poker likes to promote is seasonal and time-restricted big promotions. This means that there is usually a common focus to play on the site at certain times. A lot of these big tournaments and poker games revolve around leader board style games where players are encouraged to grind for poker points every day. These tournaments can commonly last for a month and there are plenty of prizes on offer. Even if you are not going to be able to return to the site often enough to trouble the top ranking players, you should be able to place yourself in position to win a prize of some sorts.
The Poker Odds Calculator that is on offer from the Carbon Poker site is one of the more advanced calculators and will provide support in a number of different ways including hand probabilities, pot odds and even opposition patterns.
As a smaller site on a more limited network, it would be correct to say that Carbon Poker has a lower number of attention-grabbing tournaments, promotions and bonuses. There is always a lot of additional prize pots on offer when you play on site but anyone looking out for some of the big promotional bonuses which commonly feature on big name poker sites, Carbon Poker may be lacking in comparison.
The Poker Scout stats for the site indicate that the daily peak for players sits at around just less than 3,000 players and the daily average for players on site any given time sits at over 1,000. This is clearly a decent return of figures and anyone that is keen to experience a popular poker experience that is slightly different from what is on offer from other online poker sites would be advised to have a look here.
If you are interested in the stats for the Carbon Poker site, the daily peak for the site is currently sitting at around 1,400. The daily average is around half of this, which is far from being the busiest online poker site to choose from  but it is also far from the worst and there is always something going on at Carbon Poker.
The fact that the Carbon Poker site is suitable for US players is good news and has been a major factor in the continuing rise in popularity of the site. As more American poker players look to find a reliable poker site to play on, Carbon Poker looks like being a natural choice.
There are a number of special table features that are available at Carbon Poker that you won't often find available with online poker sites. The "Rabbit Hunt" feature, which shows what card would have turned up next and the "Expose one card" feature add a new dimension of excitement and drama to playing online poker. Anyone looking for added dimensions to playing poker should find that Carbon Poker has a lot to offer.
The Merge Gaming network software is amongst the most highly respected in the online community and there is a lot to enjoy when playing games on this site and network. Carbon Poker and Merge Gaming also have a high level of safety and security measures in place so if you are looking for a poker site where you can feel safe, this option will not let you down.
Poker Games and Software
There is no getting away from the fact that one of the biggest strengths that the Carbon Poker site has to offer is its range of games. Some poker sites solely focus on the key poker games but you will find a huge range of poker games to play here.
Games like 5 card draw, Badugi, Razz, Triple Draw Lowball and a wide variety of HORSE related games are not commonly offered by online poker sites so if you want to have more choice in the games you play, make sure that you opt for Carbon Poker.
Sports Betting & Other Options
Carbon Poker also provide players with a sportsbook, casino and horse racing options so if you're looking to have all of your online gaming activities through one site, you are more than taken care of here.
Carbon Poker have really embraced the live betting trends so alongside your odds and line bets, you can place bets in play.